Smart Sealant Dispenser
A method of controlling accurately the amount of sealant extruded by an electric sealant extrusion tool, for aerospace and other industries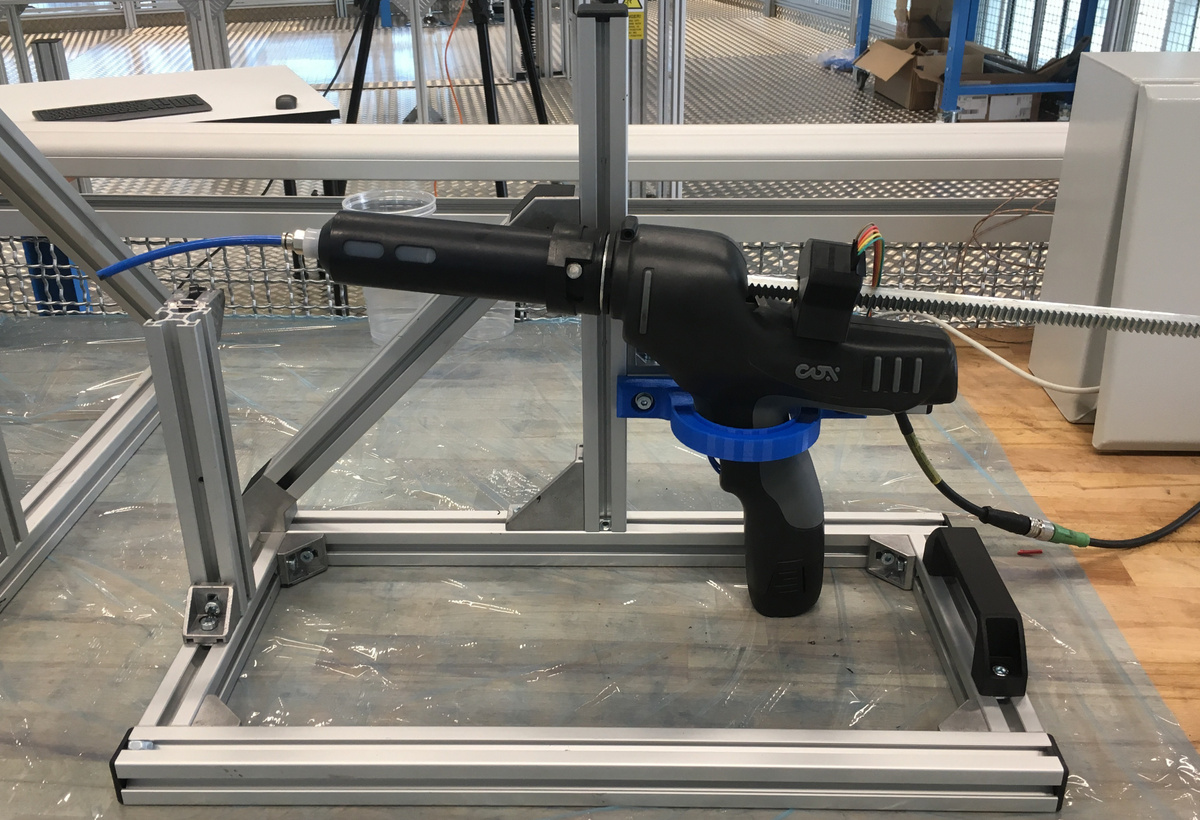 Background
This technology describes a highly accurate method to control the flow of high viscosity sealants such as those used in aerospace industries, which often do not behave in the same way as other liquids and are thus hard to control in automated systems.
Technology Overview
The University of Sheffield's Advanced Manufacturing Research Centre (AMRC) has developed a Smart Sealant Dispenser: a new method of controlling accurately the amount of sealant extruded by an electric sealant extrusion tool. This method allows more accurate dosing than is currently available, even in the case of extremely viscous material. The method of achieving this could be disclosed under NDA.
The Smart Sealant Dispenser enables the measurement of the dosage rate of viscous fluids far more accurately than can be done via the standard method of displacing a plunger. The feedback also allows more variations and system changes to be factored into the operation and dosing accuracy of a device.
This results in a repeatable process, for example when filling components with sealant, which is a common process in various industries.
Stage of Development
The Smart Sealant Device has a prototype which has been developed, manufactured, and successfully tested (
).
A cost analysis was undertaken with the aerospace industry in mind. During manufacturing of a wing set of a single medium sized aircraft, if the sealant operations were undertaken by the Smart Sealant Device instead of the typical method. Taking into account purely the saving of sealant, the Smart Sealant Device could save circa. £500 per wing set. On a production line producing multiple aircraft per month, this quickly results in a significant saving and quick return on investment. This calculation excludes any other savings, for example: time savings, quality improvements/rework reduction.
Benefits
The developers see several areas in which this system could yield cost-saving and other benefits to users. These include:
Enables robotic sealing due to dosage control
Reduction in excess sealant usage
Sealant extrudes evenly and consistently
Providing previously unobtainable quality data
Automated configuration of tools for human operators
Automated control of dosing (reduced workload)
Automated monitoring of sealant/environmental conditions
Applications
The Smart Sealant Dispenser has been developed towards aerospace manufacturing applications. However, as the process allows for accurate dosing of viscous fluids, it could also be adapted to other areas:
Automotive (car seals, window seals, carbon sealing etc.)
Construction (window seals, mortar dosing, bathroom construction etc.)
Marine (water-tight sealing generally, tanks etc.)
Oil and gas (pipe sealing)
Opportunity
The AMRC is a network of world-leading research and innovation centres working with advanced manufacturing companies around the globe. The AMRC transforms industrial and economic performance by making step changes in productivity, increasing competitiveness, developing new products and processes and training new talent and skills. The 100+ industrial members range from global giants like Boeing, Rolls-Royce, McLaren Automotive, BAE Systems and Airbus to small companies.
The University of Sheffield is seeking industrial partners to collaborate with to develop the Smart Sealant Dispenser with a view to introducing it to suitable markets under agreed licence terms. This opportunity would need a Non-Disclosure Agreement prior to any detailed technical discussions with any interested parties.
Seeking
Development partner
Licensing