Intelligent Kitting
Modernising storage with a pick by light system, non-obstructive process validation, and semi-automated shelf reconfiguration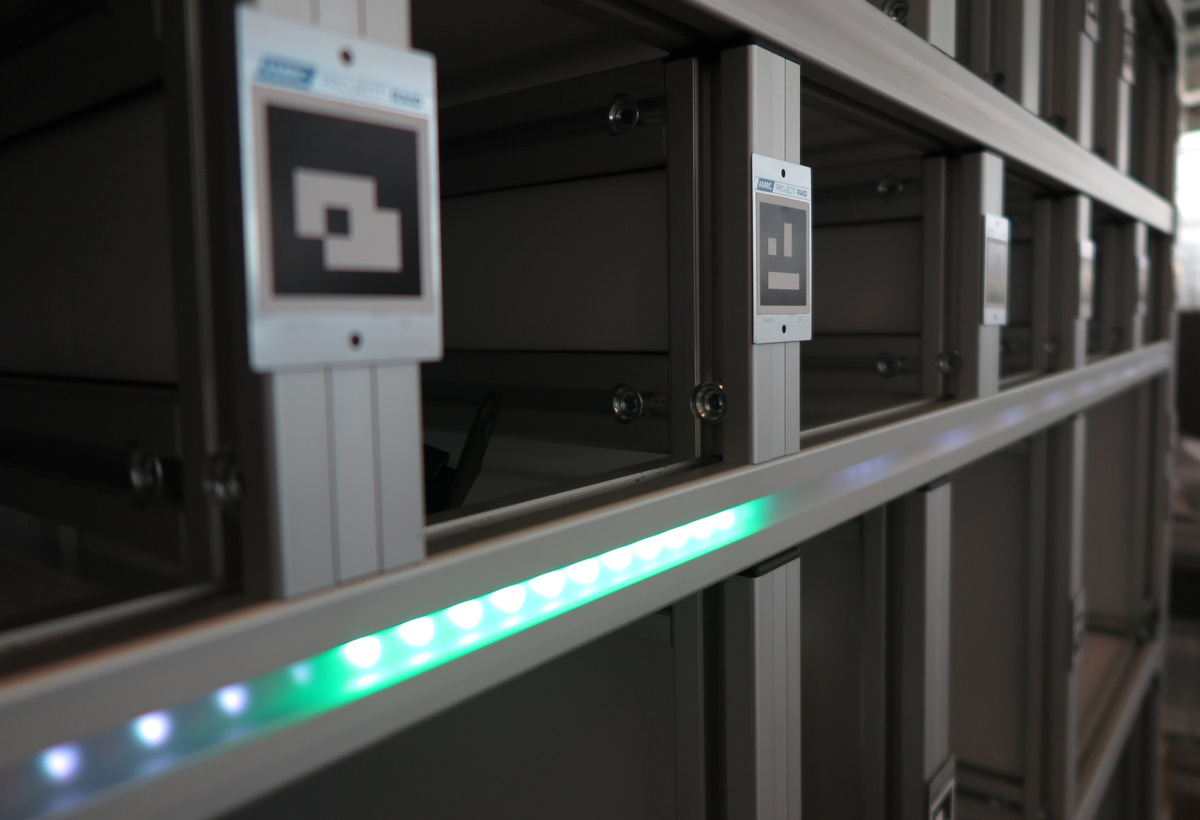 Technology Overview
The University of Sheffield's Advanced Manufacturing Research Centre's (AMRC's) Integrated Manufacturing Group has developed an intelligent kitting solution in their Factory 2050 facility, which modernises shelving organisation and inventory storage.
The system consists of an intuitive and cost-effective pick by light system, non-obstructive process validation, semi-automated shelf reconfiguration, and scope for real-time inventory level monitoring.
The pick by light system is an innovative, intuitive and cost effective alternative to current similar systems. It comprises addressable RGB LED strips, which allow for dynamic resizing of picking locations, multiple colours and intuitive animations for guidance. The picking sequence can be driven by a wide variety of inputs including tablet and smartphone applications, a website, or voice control.
Validation of the picking operation is provided by a 2D LIDAR scanner in front of the shelves. When the laser curtain is broken by an operators hand, the location is recorded and the system can perform any number of user defined actions (e.g. send an email/SMS alert for unauthorized access). In addition to process validation, the scanner allows for the creation of statistical heat maps to inform improvements to efficiency and ergonomics.
The location of each inventory item or container is stored digitally, which allows for instant reconfiguration and real-time inventory monitoring. In order to track any changes in inventory locations, a vision system is incorporated which records any changes to the shelf layout and updates the database and pick by light system in near real time.
The system uses open protocols for communication, which allows the system to be extended to include additional validation or control systems (e.g. barcode/QR readers, weighing sensors, RFID tags).
,
Benefits
Reduced picking errors
Intuitive: no need for inventory-specific knowledge or training
Real time inventory status
Full traceability of inventory and improved security
Easily integrated into existing systems
Low initial and running costs
Applications
This could be used by any business with warehouse/kitting/inventory store/organised shelving.
Opportunity
The AMRC is a network of world-leading research and innovation centres working with advanced manufacturing companies around the globe. The AMRC transforms industrial and economic performance by making step changes in productivity, increasing competitiveness, developing new products and processes and training new talent and skills. The 100-plus industrial members range from global giants like Boeing, Rolls-Royce, McLaren Automotive, BAE Systems and Airbus to small companies.
Due to much interest in purchasing this from large and small companies during AMRC tours, the University believes there is a significant commercial opportunity available for this system. They are therefore seeking an industrial partner who can help take this idea to market.
The AMRC is open to being flexible in its approach to this opportunity, and will consider licensing the existing design, or to work with co-development partners if the right opportunity presents itself. This opportunity would need a Non-Disclosure Agreement prior to detailed technical discussions with any interested parties.
Seeking
Licensing
Development partner